Hounds On Hikes
WANNA GO FOR A WALK?
Take your training to another level:  OUTDOORS, IN A BEAUTIFUL SETTING!!    Combine a gorgeous hike along with a challenging learning experience for your dog.
These are good hikes for dogs who are friendly with other dogs, and have very basic obedience skills.  (If you have a dog who barks and lunges at other dogs, click over to our FEISTY FIDO offerings!)
Sure… your dog can perform a few tricks in your livingroom.  But what happens when your dogs meets up with bunnies, enticing smells, new dogs, joggers, and bicyclists?  Learn to problem-solve with your dog under real-world conditions!  Getting reliable behavior when you actually need it is the goal of this class.
We will be hiking every other Saturday morning — join us for as few, or as many, as you'd like.  Cost to attend either hike is $15.  Two-dog families can bring both for $25!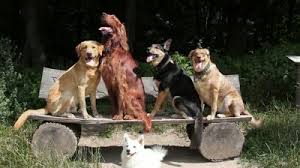 UPCOMING HIKES:
We will are in WINTER BREAK right now, but will return when the weather turns reliably warm!  THINK SPRING!  If you'd like to be contacted when they are starting up again, please email me at Carie@DenverDreamDog.com!
**TO ATTEND AN OBEDIENCE NATURE HIKE, YOU NEED:
1.  your dog to know a basic Sit, Stay, Leash Walking and Recall indoors  (NOT looking for perfection here, but if you are missing any of these, just call me for a private session, or enroll in Dream Dog Basic Manners class!)
2. a 6-foot leash
3. if your dog pulls, please have them wear a front-clip harness (for example:  Walk In Sync, Gentle Leader, Sense-ation, or Halti).
4. A flexi-leash or long leash is not required but — for certain exercises– they are wonderful.  So if you have one, bring it along with your regular 6-footer!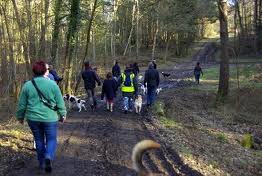 COME WALK WITH US!!