Sweet Dream Hotel
When your dog spends the night at the Denver Dream Dog SWEET DREAM HOTEL, they aren't warehoused in a kennel with lots of other anxious, barking dogs. They live with me as my own, enjoying the vacation experience designed by you, customized for your own particular pup.
An average day at the Sweet Dream Hotel might include stretching in the sun enjoying a delicious bully stick, a lunch outing for a Cheeseburger, a walk under huge Cottonwoods on the High line Canal, and rolling in the grass of an over-sized yard. Nighttime brings cuddles, bedtime stories, a rubdown, a comforting snack, and falling asleep in a posh bed near me.  If your pup wakes up worried, I will be right there by their side so they don't feel alone.
*This service is for dogs who are house-trained and crate-trained only*.  If your dog still needs to learn polite potty habits, please look at our Pup Start Board & Train Package.
Also, because this is a cozy home environment, often with other canine playmates, this service is for dogs who are friendly with other dogs and do not show any aggression or reactivity toward them.
Overnight stays are $50 per night, with a 20% discount for additional canine family members!  Just like a human hotel, I find it works well to have them check in sometime during the day so we can spend some time walking and playing together, getting your pup comfy and acclimated before bedtime.  And like a human hotel as well, they can check out in the morning, or you can arrange a late check out, depending on your needs.
A Sweet Dream Hotel Stay includes personalized playtime with me, as much outdoor free time as they want, a 40-minute walk on the Highline Canal, and complimentary night time tuck-in service/belly rub and bedtime snack. From there, customize your dog's stay with the following services:
Ride to McDonald's   …   $10.  (choose from Hamburger, Cheeseburger or Chicken McNuggets)
Ice Cream Social with doggy ice cream  …   $5.   (with Frosty Paws, a healthy frozen treat!)
Stuffed Krazy Kong  …    $5.   (stuffed with beefy meat roll — a healthy snack!)
Busy Bully Stick  …     $5.
Skype Phone Call  to Mom or Dad  …     $5.
Bedtime Story … $5.  (choose Green Eggs & Ham, In The Night Kitchen, or Owl Moon)
Additional Walk Time   …    $10. for 15 minutes
Professional Training Session   …  $25. for 30 minutes of training time
Relaxation Massage (puppy paradise from a Certified Canine Massage Therapist) …  $80./hr
Professional Grooming … varies per size of dog
Limo Service – pick up/drop off  …    varies according to location, but approx $20. each direction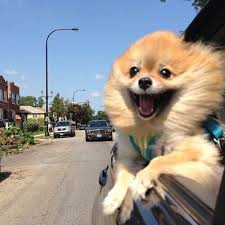 Going to McDonald's!