Testimonials!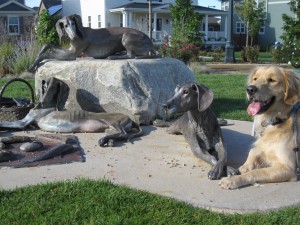 When we started working with Carie, Charlie could not even hangout with these "fake" friends–he was afraid of statues even–okay he was afraid of EVERYTHING!  Thanks to Carie's work with us–Charlie can walk down the street on a leash without lunging at people or other dogs—today is a big day–he got dropped off at daycare to play—Thanks Carie for sharing your talents–Charlie is a different dog today thanks to your work with all three of us!
                                           ~Jan G. and Melanie J.  (Charlie)
I cannot say enough good things about Carie and her training techniques. I was somewhat concerned about undertaking training as I didn't want to do anything to adversely impact my dog. Her love for dog, and for training them properly, was immediately apparent and my fears were laid to rest. Clicker training is the way to go…only positive reinforcement…and Carie knows how to make it work!
I originally went to Carie for help with an older dog that I had recently adopted. Whiskey has a tendency to snap out at other dogs if they rush her and invade her space. After Carie saw my dog "in action", I was relieved to have her tell me that my dog was doing everything right…giving the correct signals to warn other dogs away. However, since I live
in a rural area with many loose dogs, even if Whiskey is doing the right thing, the potential for a problem still exists. As a result, Carie worked with Whiskey to diminish the amount of space she needs before she feels invaded…and with me to keep my stress level down when in these situations. As is often the case, training the human is as important, if not more important, than training the dog. Carie knows how to assess the whole situation and then take the appropriate steps to address all of the problems.
Carie has also gone out of her way to help me via phone calls and emails as training Whiskey will be a lifetime project. She even took time to train my other dog while I was down for sessions with Whiskey. I feel I have my life back thanks to her. I highly recommend Carie if you have any type of behavior problem with your dog.
~    Corin W. (Whiskey and Lily)
THANK YOU, CARIE!! Bella and I can actually take walks around the neighborhood now without her lunging like crazy when another dog might be coming our direction, or around the next corner!! I understand so much more about what she's "saying" to another dog, and what is actually going on between them way before they even get close. I've been practicing what you showed us and it's working!! She's looking to me instead of going nuts at the end of the leash, and the amount of space she needs to pass another dog easily is shrinking. I know it's not magic, but it feels magical to me because this has been so hard for us for so long. She's more comfortable. I'm more comfortable. Our stress level has dropped like you can't believe. THANK YOU, THANK YOU, THANK YOU!!!
~ Suyzel J.  (Bella)
Carie has been working with us and our two untrained 4 yr old dogs. She had them doing amazing things from the minute she came to our home. Our Shepard, Leia, will bark ferociously at the door and we have to hold on to her when we open it. Well, Carie knocked on the door and Leia started barking. I open the door and there is Carie standing sideways, which is less threatening to them (I didn't know that – did you?). Leia just goes up and sniffs her. No barking. We were shocked. And it gets better from there. She is doing a great job too of training my husband and me. We probably need it more than the dogs. Carie specializes in clicker training. It's all about positive reinforcement – no negativity involved, no punishment.
Don't even bother considering anyone else. It is incredible what she accomplishes in a very short time
~ Drew B. (Luke and Leia)
Carie came to our house to work with a very scared dog that we were fostering to adopt. She gave us great suggestions for both the foster dog and our own dog. We have decided to adopt the foster dog thanks to her training and efforts.
~Richard and Deb H.  (Pepper and Lexi)
What is truly amazing about Carie is her ability to relate to my dog…and to us. Within a couple short sessions, we tackled several issues and my dog responded so well. The games Carie taught us are easy to practice and I was shocked at how much fun we had while accomplishing so much. I have tried the traditional dog training in the past but am now sold on in-home training. From one dog lover to another, Carie is the real deal.
~ Jaci P. (Fuego)
Carie is so WONDERFUL! She really connects well with dogs. I would dread taking my dog out for a walk before I met Carie, now I look forward to walking my dog and using the walk as a great opportunity to work with him. She was so willing to work with my current crazy living situation and schedule. She truly is so incredible at her job and is great and working with dog owners. Its amazing how much we learned from Carie. So THANKFUL to have found her!!!  She is amazing!!!
~Holly D. (Parker)
Carie is amazing! Her schedule is great, and she works well around anyone's busy schedule. After just one session you feel as if you have a brand new dog. She sets wonderful starting points to help you teach your best friend good habits and makes you love your fuzzy little friend ever more. Sh'es reasonable with her prices and her tips and tricks. Thanks again Carie! Turner and Hurley miss you!
~Erin M. (Turner and Hurley)
You are such a wonderful person, and I know Riley loves you. I remember before you started working with him, it felt like a chore to walk him, and now we walk, run, and it's so much fun!  I will definitely keep in touch. If you're ever in the neighborhood and want to stop by and say hello, please let me know! Thanks so much for everything. Oh, and I posted your video to my Facebook page, maybe you'll get a couple referrals!
Thanks again Carie. You are amazing!
~Sasha A.  (Riley)
Can I send you a million thanks already? We have been working with Roo this morning and afternoon as clients come over, and while he initially goes into crazy guard dog mode, he comes right back to me with the exercises you have shown us, and is making me such a proud mom. I simply set out the "relaxation mat", without starting any training, and he curled up and went to sleep on it. You are truly a god-send! We may be seeing you back for other training issues in the future, but for right now, I cannot sing enough praises for you!!
~Becky W. (Roo)
Denver Dream Dog recently ran a promotional special on LivingSocial. Purchasers of the vouchers are asked by LivingSocial to comment anonymously on their experience with the business. Below are all the data and comments received:
Average Rating
97% Thumbs Up
*Trainer was awesome and my dog loved her from the minute she walked in the door.  She certainly has a way with dogs.
Thumbs Up  02/02/2013
*She had a great personality and tons of ideas to help us better understand and support my dog:)Thumbs Up    02/02/2013
*Carie provided great suggestions, demonstrated strategies, and was a very effective teacher!            Thumbs Up    1/24/2013
*Carrie was awesome!  She was very patient with my dog and provided me with a wealth of information.  I will definitely contact Carrie for my other  dogs.                                                                                
Thumbs Up   01/18/2013
*Online appointment setting was easy. I felt I got more than my money's worth from the session. Will recommend her to everyone!
Thumbs Up   01/14/2013
• This was a very worthwhile training session. Ms.Grant is informed and has a wonderful way with dogs.
Thumbs Up   01/14/2013
• Check out my yelp review for more details


Thumbs Up 01/14/2013
• I learned enough that I told her I want at least a couple more sessions! Patient with our little dog, and she also gave us some good training tips.
Thumbs Up 01/08/2013
• She was very professional and so very nice. Would have her back in a minute. Helped us a lot with our dog. Thanks
Thumbs Up 01/04/2013
• Carrie was very friendly and knowledgeable!
Thumbs Up 01/03/2013
• Great experience, will recommend to all my friends with dogs!
Thumbs Up 01/03/2013
• She was GREAT!!!
Thumbs Up 12/17/2012
• Cari was awesome and we will be using here with or without a livingsocial deal!
Thumbs Up 12/03/2012
• This was a wonderful experience!
Thumbs Up 11/24/2012
• professional and informative.
Thumbs Up 11/13/2012
• Denver Dream Dog is a wonderful business – they exist because they love dogs…how cool is that.
Thumbs Up 11/07/2012