Carie Grant, KPA-CTP
                 CARIE GRANT, KPA-CTP   
                  Dog Behavior Specialist
                     Direct:  720.971.8446
            Carie@DenverDreamDog.com
Carie Grant graduated with distinction from the     prestigious Karen Pryor Academy for Animal Training and Behavior.  Trainers from around the world travel to attend Karen Pryor's Academy because it is recognized globally as the gold standard in dog training.  The Academy's rigorous program produces inspired trainers who get results:  they possess both a solid knowledge of the science that governs learning, and expertly honed practical abilities in both training animals and teaching other people to train animals.
Carie is extremely committed to remaining on the cutting edge of the most effective science-based methods available through continous education. She continuously takes advanced education in such topics as leash reactivity, fears and phobias, solutions for barking dogs, and inter-household aggression betweeen multiple family dogs.  She has attended seminars of internationally recognized presenters such as Patricia McConnell, PhD, as well as with Debbie Martin, RVT, VTS, CPDT-KA, KPA-CTP on assisting dogs with deep Separation Anxiety, and the powerful program on Understanding and Preventing Canine Aggression by Julie Shaw of Purdue University Animal Behavior Clinic.
She is a Canine Good Citizen Evaluator, certified by the American Kennel Club, Evaluator #89983.  She is also an Advanced Trainer with Canine Partners of the Rockies, training highly skilled service dogs to be placed with individuals who have mobility limiting conditions and facility dogs with professionals who provide therapeutic services to people with disabilities.

As a member of the Pet Professional Guild, Carie Grant trains using only force-free methods – not because she is a "softy".  Actually, it's quite the opposite!  Far from lax or permissive, these positive methods develop the highest self-control and willingness a dog can achieve!  The data doesn't lie – and the data bears out the fact that positive training is more effective, more powerful, and delivers more reliable results than using the dominance and force-oriented methods so commonly available right now.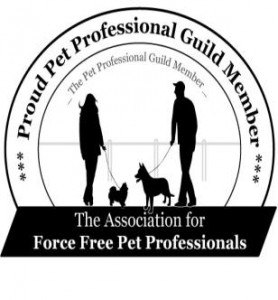 Carie also partners with an elite group of top Denver trainers, vet professionals, and animal behaviorists — each with their own particular specialties.  When you come to Denver Dream Dog, you have arrived at a one-stop shop to support your dog training needs, from early puppy socialization and basic obedience, to reversing canine behavior problems, to solving really challenging issues that might require pharmacological treatment, alternative healing methods, and/or deep behavioral therapy.
Carie is also committed to the community!  In the past, she has volunteered many hours at the Denver Dumb Friends League's Behavior Department, working with fearful, stressed and reactive shelter dogs.  And for the children in the community, she is a DogGone Safe/Be A Tree presenter teaching children how to interact with dogs safely, and how to protect themselves from being bitten.  In addition to her time, she also donates 1.5% of her total income to animal shelters and rescues around the country, and "scholarships" for dog owners who need assistance to be able to afford training for their dogs.